Why Choose and What is Lantis/323f?
http://www.netlaputa.ne.jp/~haha/lantische/_whats. 2008.02.01. 03:55

Why Choose and What is Lantis/323f?

Why Choose and What is Lantis/323f?

Lantis/323f is not a popular car in Japan.
When you say " I drive a Lantis/323f!" and chances of people knowing what Lantis/323f is very limited.
It's suppose to be a "real sports car", but the manufacturing parts are limited and not often we see an article about it in the "Tuning Car Magazine".

Lantis/323f entered in the 2 liter 4 door Japan Touring Car Competition (JTCC), but it never appeared as "the major car". Recently, the "Familia" is the major car of Mazda and this maybe the reason why Lantis/323f is not a very popular car.
When you think about this and if you wanted to purchase a major car, there may be no affirmative reasons for choosing Lantis/323f.
But for some people without realizing, it has some attractive features they cannot refuse. Maybe this is because it has some similar features of "the maker" of Stuttgart cars. However, it's not the racing image that attracts people but the everyday usage that attracts them.

Nor the narrow body or the big bumpers of 911, but I am convinced that it follows the exterior designs of 924, 928, 944,959,964,993,996, Boxster, and 911GT1.
This may be just a guess but in reference of the first release catalog of August 1993, and from the new edition catalog of February 1995 (pointing to the styles of coupe), I will explain why I am convinced this way.
 Aug.1993.Delivery catalogue.(C)MAZDA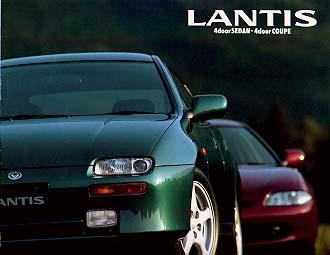 1, Styling by Porsche

Lantis/323f's exterior was designed by MRE ( Mazda Design Center, Orberammergau, Germany).
We know the MRE chief designer at the time was the one who designed the exteriors of Porsche 924,928,and 944.
From the Lantis/323f design competition, MRE's chief designer proposed the best design to be applied for Lantis/323f(323f), and the second best for Familia NEO(323 coupe), which as a result applied to the end products.
I focused on the issue of this high quality proposition, and I guess since this chief designer was employed by Porsche he may already had this proposition in mind.
Because of this, we can certainly say "Lantis/323f is designed by Porsche!"
Feb.1995.Delivery catalogue.(C)MAZDA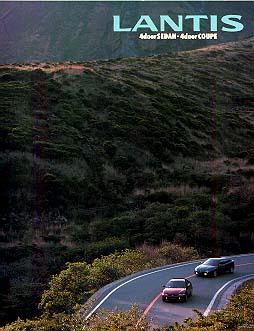 2, Porsche Tuning Engine

The engine used by Lantis/323f is a KF-ZE type engine.
This engine is the same engine type developed for Cronos(363), but there has been some practical changes made especially for Lantis/323f. For the horse power, it only seems
160ps became 170ps and rev went up to 500rpm, but there is a rumor going around that this V6 for Lantis/323f tuning was performed by Porsche.
This may not be a rumor because The Porsche Company attentively helps other car companies with their mechanical development.
At that time we know Porsche assisted in putting together Mazda's 2 liter and 1.8 liter V6 engine for Presso/MX-3.
Although,it seems there had been no assistance from Porsche for 1.8 liter inline four unit (BP-ZE).
This may confuse V6 owner, because 1.8 liter inline four unit is used for most races in Japan.
 Jly.1995.Delivery catalogue.(C)MAZDA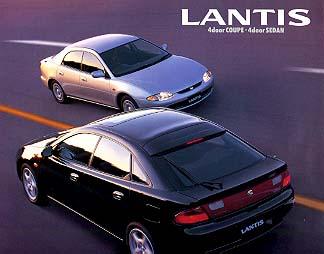 3, Chassis Tuned in Nurbergring

At the time, high quality Japanese car companies started to favor Nurbergring, Germany circuit's chassis tuning for some reason.
Nissan's BNR32 Skyline was the first Japanese car to use this circuit and I guess this started other Japanese car companies to follow.
The main reason Nissan started to use this was to make world's number one FR which would dominate Porsche 944.
It was well known by Nissan development team that Porsche, (other than using their own test course) they used Nurbergring.
It is also known to be a fact that Nissan used to carry out their test runs on the same day as Porsche.
Porsche only started to acknowledge Nissan when it began to super-rap.
As same as NSX and Impressa, Lantis/323f also carried out their test runs often at Nurbergring for the reasons of making new bases of Mazda chassis and to incorporate similar performance to Porsche's tuning engine.
Aug.1996.Delivery catalogue.(C)MAZDA